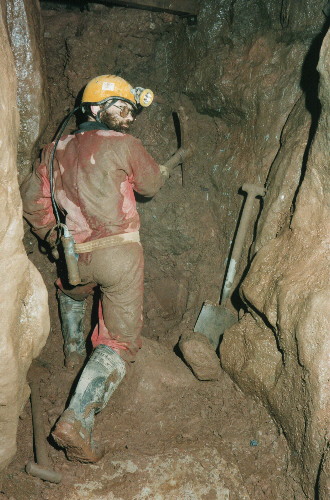 Digging a new cave!
Digging Week 2006
Find a new cave to celebrate SWCC's 60th year!
Next year will be the club's 60th anniversary, and at the AGM Jopo proposed the idea of marking the occasion with a 'digging week'. This will probably be in addition to the more traditional working week, and the date has been set for the week that begins with the August Bank Holiday (26th Aug to 3rd Sept). The idea will be to kick-start some serious digging/exploration activity, as the club is long overdue for some new discoveries! Some of the activity will no doubt involve those (few) sites currently being dug, but it could also be a good opportunity to start something new or to revisit some of those long-dormant projects, many of which were abandoned before the advent of technology such as Bosch drills. We could also include underground climbing and/or bolting projects, cave diving, resistivity, or whatever other means might lead us into a new phase of SWCC exploration. And hopefully by the end of the week we may need some surveyors and cave photographers too...

As a keen digger myself I have offered to help Jopo co-ordinate the digging week, and at this stage it would be useful if anyone who might be interested in taking part could let me know by email tonyphoto AT supanet DOT com or talk to me at Penwyllt. You don't need to make a firm commitment at this stage, it would just to be useful if we could have some idea of the likely levels of support. I'd also like to hear from you if you have a 'pet project' that you think could do with the application of some manpower and/or technology.

Thanks, Tony Baker.