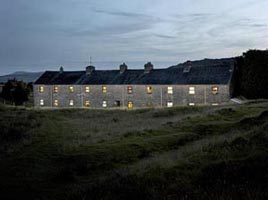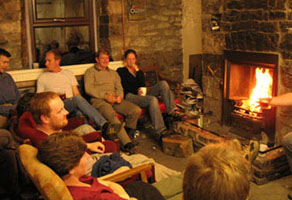 SWCC Headquarters and caving hut is a converted terrace of 10 small cottages in Penwyllt (History of Penwyllt), in the upper Swansea Valley, on the southern edge of the Black Mountain.  
If you would like to stay at the cottages please also see the Bookings, and Guest Information pages.
Downstairs in the main cottages there is a large communal kitchen with four stoves and refrigerators, a dining room, a pay phone and the long common room, our main meeting room with a large log fire, which is where the action usually is once we have all returned from caving. See Inside?
Further along the cottages we have ladies and gents changing rooms, with hot showers and a heated drying room for damp kit.
Bunkroom accommodation is provided upstairs for up to 30 visitors (total in bunks and camping) and 30 members, and we have room for perhaps a couple of caravans. 
Smoking is not permitted anywhere in the cottages.
Directly beneath the cottages is part of one of the deepest and longest caves in Britain, Ogof Ffynnon Ddu There are three entrances to this system within walking distance of the cottages. On the other side of the valley, almost opposite, is the entrance to Dan-yr-Ogof, also an extensive system.