Ogof Ffynnon Ddu
Ogof Ffynnon Ddu, the Cave of the Black Spring, commonly known to the lazy or non-welsh as OFD, is the nearest cave to the club, lying almost under the cottages. There are 3 entrances to the system within easy walking distance of the cottage - the OFD I or bottom entrance, the Cwm Dwr entrance and the OFD II or top entrance.  Please see the access information for OFD to plan a trip.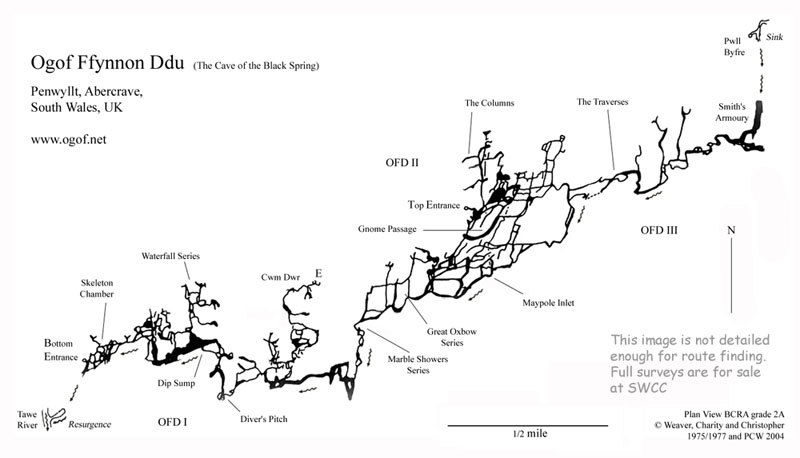 For the 'full' experience without leaving your chair, look at the Virtual Tour at www.ogof.net 
OFD is Britain's third longest cave and at 275m deep is its deepest. The through trip from the Top to the Bottom entrance remains a classic in the UK, and its approx. 61km of passages provide everything from huge chambers, beautiful formations, to yawning chasms and thundering river passages.   The routes though the cave are too numerous to mention, but the simplified survey above locates some of the main points.  Copies of the full survey are available from SWCC HQ.
Be aware that the Mainstream and some other parts of the cave are prone to flooding, and in any event a journey down the Mainstream is long and cold and wet, so go prepared.
You can find more background info on Ogof Ffynnon Ddu and a Conservation article from Welsh Country Magazine. For more information about the nature reserve, please go to the NRW website.
Topos and more information